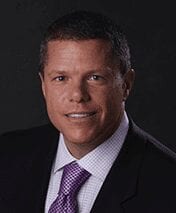 Miami Office
Prime Strategies
235 Catalonia Avenue
Coral Gables, FL 33134
Phone
(305) 461 4260
Email
Prior to forming Prime Strategies, LLC, Brian May spent a decade working in state and local government and politics at various high-level positions and is a well-recognized expert in Florida politics and government. Brian served as Chief of Staff and key strategist for former Miami-Dade Mayor Alex Penelas and served U.S. Senator Bill Nelson in similar positions throughout the Senator's career dating back to 1994. Brian continues to serve Senator Nelson as a senior political advisor. While serving the public from within government, Brian played a key role in bringing together a number of important initiatives and projects.
May was a key player in the landmark deal to build the American Airlines Arena in Miami in 1997 and was the architect behind then Florida Insurance Commissioner Nelson's efforts in 1995 to attract insurance capital to Florida through incentives for insurance companies to remove policyholders from what is now the Florida Citizens Property Insurance Corporation (Citizens).
As a member of Prime Strategies, LLC, Brian specializes in the areas of issue strategy and management, message development, real estate entitlement, transportation, technology, land use and development, and local government procurement and budgetary matters.
He has an expertise in representing complicated development projects in securing land-use, zoning, permitting and transportation entitlements before local governments and state agencies. Brian most recently led negotiations on behalf of the Miami Dolphins in reaching an agreement with Miami-Dade County for a public/private partnership to modernize Hard Rock Stadium and is also the lead representative for Uber in establishing ride-sharing business model regulations in South Florida.
Brian is also recognized as an expert in managing political campaigns, having managed and consulted on several successful high-profile candidate and referendum campaigns at the state and local level in Florida. He served as the lead consultant for Bill Nelson's election to the United State Senate in 2000 and his reelection in 2006, as well as Campaign Manager for Alex Penelas' election as Miami-Dade County Mayor in 1996 and as lead consultant for his reelection in 2000. Brian was also a lead consultant of the statewide campaign in 2002 to establish mandatory pre-k for all 4 year-olds in Florida, as well as the 2008 Miami-Dade County referendum allowing slot machine wagering at local parimutuel facilities.
Brian is a graduate of Furman University with degrees in political science and philosophy and also serves on the board of Goodwill Industries of South Florida.