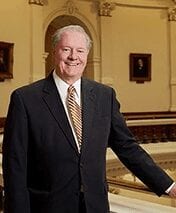 Texas Star Alliance
Texas Star Alliance
1122 Colorado Suite 102
Austin, TX 78701
Phone
(512) 281 – 1300
Email
John R. Pitts is the founder and managing principal of the Texas Star Alliance. He has nearly 25 years of experience working around the Texas Capitol. John served as general counsel to former Lt. Governor Bob Bullock and also served as chaplain to the Texas Senate. He has held leadership roles in several multi-national law firms and his expertise as an attorney and lobbyist is well-respected among policy makers across the country.
John has had the opportunity to develop and steward vital legislation on both state and national levels. While serving the lieutenant governor, John directed the effort to draft and pass the historic water legislation, SB 1. He has successfully represented clients from a broad range of industries including numerous Fortune 500 companies, major trade associations and national nonprofits. His clients represent a cross section of legislative issues including: transportation, health, education (public and higher), technology, pensions, appropriations, finance, tax, water, banking, agriculture, affordable housing, criminal justice, juvenile justice, ethics, insurance, gaming, and alternative energy.
His distinguished career includes serving as partner at Vinson & Elkins LLP, as senior counsel at Akin Gump Hauer & Feld LLP, providing counsel to a Texas Supreme Court Chief Justice and holding several clergy positions with The Episcopal Diocese of Texas. A popular public speaker, John often speaks at State Bar of Texas conferences, University of Texas School of Law conferences, public affairs roundtables, professional association meetings and other continuing legal education seminars.
Driven by a passion to improve our communities, John is honored to serve on many organizations including the board of the Texas Association of Business; board chair of Big Brothers Big Sisters Greater Houston; board vice-chair of Big Brothers Big Sisters Lone Star; board of March of Dimes, Greater Houston; board of Park Plaza Hospital and Medical Center; founding board member of Houston City Hall Fellows; board of The Hope Center Houston; board of St. John's School in Houston; board and co-Founder of Trinity Episcopal School of Austin; board and co-Founder of LIFE Houston; board of Virginia Theological Seminary in Alexandria, Virginia; board of the Episcopal Seminary of the Southwest in Austin, Texas; board member of UTHealth Development Board, serving as vice-chair of its Government Relations Committee, chair of its PAC Committee, and member of its Membership Committee.
John is a graduate of Southern Methodist University where he earned a B.S., an MBA and a J.D. In addition, John has received a Master of Divinity from the Virginia Theological Seminary. He has two sons and he and his wife call both Houston and Austin home.
John has been recognized as the 6th most influential lobbyist in Austin by the online publication, Capitol Inside. He has also been recognized as one of Texas' Top Rated Lawyers in 2014, 2015, and 2106 by Martindale-Hubbell and, selected by his peers, as one of the Best Lawyers in the United States in 2011, 2012, 2013, 2014, 2015 and 2016. Big Brothers Big Sisters selected him as Board member of the year in 2010. John was appointed by Governor Preston Smith as Board member of Texas Commission of Children and Youth.